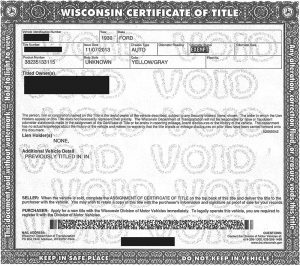 A vehicle that is missing a title can be problematic whether you are buying, selling, or simply moving a car to a new state. You'll need to get a new title in order to sell or transfer the vehicle, and many states require you to retitle a vehicle when you move. If you are buying a car, a title is even more important: the title protects you and prevents misunderstandings involved with legal ownership of the vehicle.
So what do you do if you've lost your title or if the vehicle you want to buy doesn't have a title? There are a few important steps you'll want to take:
Replacing a Lost Title
If you are selling a vehicle or moving to a new state, you'll want to have a current title in hand. If the vehicle was originally titled in your name and you've lost it, you can apply to the DMV for a replacement title. You'll need to verify which state issued the original title and follow the guidelines for the issuing state (even if you do not live in that state currently). You will also need a copy of your driver's license and current registration. For more specific information about the state that issued your title, read How to Find a Lost Title on the F & I Tools website.
Buying a Vehicle Without a Title
While most modern vehicles have original titles, antique and collector cars, particularly "barn finds" may have never been titled. Buying a vehicle without a title is risky: the title is a legal document that provides exclusive ownership rights to the title owner. This means that if you were to buy a stolen vehicle that has no title, you would have no rights should the title owner appear and claim ownership of the car. To avoid disputes related to titles, you'll want to:
Research the vehicle. No matter what story the seller has told you about why there is no title or where the car originated, be sure to get a full vehicle history report (VHR) online (popular sites include Carfax or AutoCheck). A VHR will provide the car's title status, an odometer report, and will include a history of accidents or insurance claims.
Contact your local DMV. You can use the car's VIN number to confirm title status and request a history of the vehicle and any reported accidents.
Make sure the vehicle isn't stolen. Use your car's VIN number to check with the National Insurance Crime Bureau to determine if the car has ever been reported as stolen and not recovered.
Consider a pre-purchase inspection. AAG can provide a Vehicle History Report on late-model vehicles when completing a prepurchase inspection and certified appraisal report.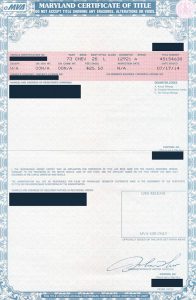 If any of the information you find during your research contradicts the information provided by the seller you might want to reconsider your purchase.
If you do decide to purchase the vehicle, you can protect yourself in a few ways:
Complete a bill of sale. A bill of sale is an important part of the sale of any vehicle, and it is even more important when the car title is missing. Include all details of the sale: VIN number, mileage, and the price you paid for the car. List the terms of the sale ("as is", "seller to supply title", etc). Document the seller's and buyer's complete information: full addresses, legal names, and phone numbers should be available for both parties. Use a form of payment that can be easily proven such as a check or bank draft. You may also want to agree that all funds remain in escrow until the terms of the sale are met.
Request a replacement title from the seller. If the vehicle has been previously registered in the seller's name with the DMV, the seller can request a replacement title. Once the seller has obtained the new title, the sale can proceed normally.
Locate the original title. If the seller never registered the car or transferred the title to their name, it may be worth trying to track down the original title from the previous owner. Your vehicle history report (VHR) will include the last state in which the car was registered. Contact the DMV for contact information associated with the last titled owner, explaining the reason for your call. Some states may insist on contacting the previous owner for you. You can request that the previous owner file for a duplicate title that will allow you to register the car in your name.
Get a Surety Bond. In some states, you can obtain a Surety Bond to get a new title. A Surety Bond is a financial security measure that guarantees that the car belongs to you and covers you should there be any financial penalties associated with the car. Check for any liens on the vehicle and do not complete the purchase until all liens have been cleared and lifted. Most states require proof of purchase, proof of residency in your state, proof that the car is not junk or salvage, and an accurate appraisal of value. A certified appraisal can help establish the value of the vehicle so that you can purchase the Lost Title Bond.
Any time that you consider purchasing a vehicle without a title, you should also think about involving a certified auto appraisal expert to help you gather information about the car to ensure that the process of retitling is as straightforward as possible. Contact Auto Appraisal Group today for assistance!