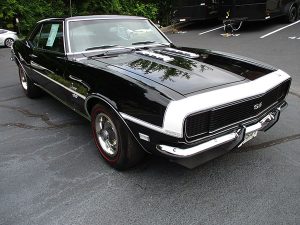 We think it won't happen to us. Accidents, theft, natural disasters!
Be ready for the unexpected. Make sure your antique, classic or customized vehicle is documented and properly insured! Get a car appraisal from a professional certified appraiser! Don't wait until something happens to act.
Protect your vehicle by having the proper coverage for your use and needs. Ask your insurance agent about the difference between agreed value, stated value and about any endorsements available for your collector car policy. What amount will you receive if your vehicle is stolen? Know what your policy covers.
Have proof of your muscle car, street rod or collector car's current condition and value by getting an independent, certified appraisal and provide a copy to your insurer for their records. Be prepared.
Independent documentation of the current condition and value of your collectible auto is important to secure coverage from your insurance company, and even more critical when you file a claim for damages to your antique, classic or customized vehicle.
AAG Insurance Value Appraisals Include:
Each vehicle is inspected onsite by a certified agent as part of AAG's certified value appraisal services.

During this inspection, agents take photographs of the vehicle to document condition.

We gather pertinent historical information as available from the owner.

Our master appraiser oversees all appraisal research and valuations utilizing our centralized database for consistency.

The completed PDF report is emailed to the client.

A printed hard copy is available upon request for a modest fee.
AAG Insurance Value Appraisal Advantages:
Insurance companies accept AAG's appraisals and write coverage based on our value assessment.
A comprehensive and professional classic car appraisal by a certified auto appraiser is a valuable tool when negotiating the settlement after an accident. Many accidents involving collectible automobiles are not the owner's fault, but the fault of another individual.
AAG vehicle appraisals also become a valuable part of the documented history for your collector car, truck, or motorcycle. Should you decide to sell your automobile, you will be glad you invested in a professional car appraisal by a certified auto appraiser that independently documented the condition and history during previous years.
AAG's insurance appraisal customers get a FREE Market Value update once a year for two years from the date of their certified appraiser's report. Complete our market value range form and put your file code in the credit card field.
As an AAG customer you can easily stay in touch with the current value of your vehicles.
For What It's Worth
Auto Appraisal Group's Definitive Blog about the world of automobile value. View More Articles…
{
"Jim prompt services very professional explained appraisal results revealed all documents."
{
"Highly professional and thorough. Bill T. was prompt, knowledgeable and personable. Appraisal (for insurance purposes) was higher than expected."
{
"Excellent service provided."
{
"Appreciated the time the representative took to go over the car with me as well as answering my questions. And he truly appreciated the attachment I have to the car."