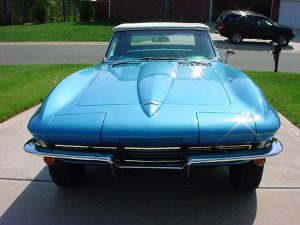 Certified Documentation Can Confirm Your Automobile's Pedigree and Protect Your Investment
Why is it important to document the history of your automobile?
Owners agree that documentation makes a car more valuable by establishing the pedigree of a classic car, both for collection purposes as well as for a future sale.
History, originality, preservation, correctness and provenance of the vehicle's components and equipment can add to your vehicle's value, and accurate documentation of these factors is essential to assessing the value of your car.
Do you have historical paperwork or certified documentation for your collector car?
A well-documented car appraisal is one of the most important things to have when owning a special interest car, truck or motorcycle should there be any future need to make a claim to your insurance company, sell the vehicle, or for property settlement.
For over 30 years, AAG has provided certified documentation as part of an auto appraisal to confirm a vehicle's correctness and condition at a specific point in time for collectors, lenders, insurers and restorers. This classic car appraisal service is essential to serious collectors, allowing them to make accurate and confident decisions about their vehicle.
How does documentation add value to your special interest vehicle whether it's a car, truck, motorcycle, original, custom one-off or modified automobile?
One of AAG's clients placed the Document Your Auto portfolio on each of his displayed cars when being sold at auction.  His cars brought more money than similar vehicles at that auction. Bidders could see all the important and historical details, summarized in one document, while looking at each vehicle.
What's included in the Pedigree Package?
AAG stands ready to certify your vehicle and include it in our database of documented and registered vehicles, providing the freedom to collect with the assurance that you will always know that your collection is documented.  Inclusion in our official registry can add value and prestige to your vehicle, as well as provide proof of its pedigree should a catastrophe arise.
The creation of each Certified Documentation portfolio begins with a vehicle inspection. The certificate includes a complete description of your vehicle, its special features and verified history. This could include information about any of the following:
Original features
Production numbers
Build date and location
Special options or packages
Numbers matching verification
Verification of construction and build
Customization verification
Awards won
Celebrity or historical provenance
… and more
This auto inspection portfolio can protect your vehicle's credibility and add value for the future. It is also an effective way to get to know your vehicle better and document its authenticity.
To order the Certified Documentation Pedigree Package call toll-free 1-800-848-2886 or complete the online service request.
For What It's Worth
Auto Appraisal Group's Definitive Blog about the world of automobile value. View More Articles…