LeMay Collection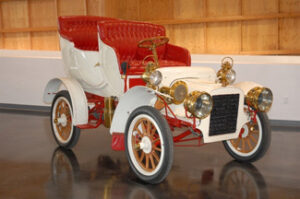 Harold LeMay, like many car collectors, had a love for the automobile. He was especially passionate about American made cars and saw the importance of saving as many different models as possible. At the time of his death in November 2000, he had amassed a collection of over 3000 automobiles.
In 2001 Auto Appraisal Group was selected as the official and exclusive classic car appraiser to inventory, document and establish the value of the Harold LeMay collection.
Under the leadership of AAG founder Larry Batton and automotive expert Bob Lichty, AAG's certified agents and staff invested over 2600 hours onsite and countless hours of research to identify, document and appraise each vehicle in the collection. Because of the size and diversity of the agents and appraisers at Auto Appraisal Group, we were able to complete the classic auto inspection and information gathering process for the estate within a 6 month time frame.
Vehicles were found in 53 different locations in 5 communities, in various stages of condition that represented over 230 different manufacturers. During the appraisal, agents would go to an address with no idea what they would find. They would open garage doors to find automobiles that had been driven into place, and had sat for decades waiting to be rediscovered.
Today, the LeMay family makes many of their cars available for public viewing at the LeMay Collection at Marymount. The LeMay family was also instrumental in the development of America's Car Museum located in Tacoma Washington that carries the LeMay name and also displays cars from the LeMay collection as well as exhibits and vehicles from other private collections.
AAG was honored to have been chosen as the classic car appraiser for this significant collection of classic automobiles. We are well equipped to help perform classic car appraisals and inventory any collection of any size and scope.
Contact our office for more information about the personal service AAG can provide for your prized collection.