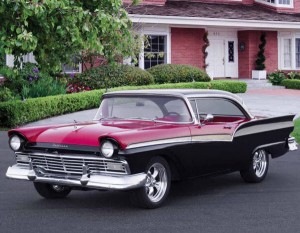 Back in 1957, I was a high school freshman, not quite old enough to have my driver's license. Even though I could not legally drive, I was already a certified car nut. The fall introduction of the new cars was a big deal. When I first laid my eyes on the new 1957 Ford, my initial reaction was "Wow"! It was love at first sight.
1957 was the year when most American cars, except for Chevy and Pontiac, were dramatically longer, wider, and lower than their 1956 predecessors. In the case of Ford, the new Fairlane series was five inches lower, had a two-and-one-half inch longer wheel base and measured more than nine inches longer overall compared to 1956 models. The Custom and Custom 300 were three inches longer overall and had a one half-inch longer wheel base. The difference in dimensions and style is a good example of creating a clear distinction between the lower and higher priced models in the same brand (Ford).
One way to make the 1957 models looks was to change from fifteen inches diameter wheel rims to fourteen inches. Another unique feature on all Ford Motor Company models for 1957 was a rear opening hood. And 1957 was the year Ford introduced the mini-fin on all models including the Thunderbird. These fins enhanced the side look of the Fairlane 500 series, especially when in a two-tone color combination. The lines and
color flowed in a symmetrical ideal of great "Art Form."
About ten years later in 1967, I had the distinction of owning two different 1957 Fords. The first was a beat up Ranch wagon with the 223 cubic inch 6-cylinder engine with a three-speed manual column shift. The car had lots of cargo room, comfortable vinyl bench seats, and rode well. Also during this time span, I bought a low mileage 272 cubic inch V8 Custom 300 four-door sedan with the two-tone blue and white color combination. This was a solid middle class sedan that had reasonable pickup and passing power and, despite not having power steering, handled well.
To me and others, one of the mysteries in the collector car hobby is why the 1957 Chevy Bel Air's are much more sought after than 1957 Fords. The average values of each brand tell the story of this demand. While both 2 door hardtop models sold for within $200 of each other as new models, today the Bel Air sells for over twice as much as a Fairlane in comparable condition. The question remains: Why do collectors favor the Bel Air over the Fairlane?
~Submitted by Patrick Costello, AAG Certified Agent, Green Bay, Wisconsin
We'd like to hear from you! Tell us which of these 1957 models you prefer – the Bel Air or the Fairlane and why.