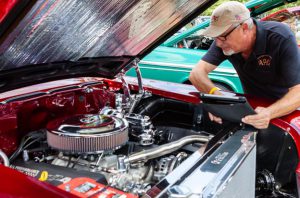 A pre-purchase inspection's purpose is to document the condition and features of a vehicle for a potential buyer who does not want to travel to the vehicle or who may not have the knowledge necessary to accurately assess its condition. AAG agents are our client's eyes and ears as they gather information during their inspection. 75-150 photographs are taken to document the details and condition of each automobile, inside and out. A paint meter is used to determine areas where body filler has been used or repairs have been made. Over 125 individual items of the auto are given a condition rating. Additional information includes identifying numbers, copies of documentation, descriptions of options, aftermarket items, wheelbase measurements, drivetrain particulars, comments regarding the condition of components, operational and performance verification of features, as well as a test ride in the automobile to assess its roadworthiness.
AAG agents have a strong background of experience and knowledge and are tested and certified by the company before they start working with AAG. They are available to speak with clients before and after the inspection. Since we are appraising the condition of the auto we provide a condition report instead of an appraisal report. However, the appraised value of the automobile is included in the verbal consultation that is part of every pre-purchase inspection that AAG provides.
A certified appraisal is a document that is created to establish the value of a vehicle for a specific purpose and is completed according to recognized standards within the industry. Personal property appraisers are not regulated to the extent that real estate appraisers are. However, professional certified appraisers adhere to similar standards as applied to automobiles. Certified appraisals are often requested by lenders, insurance companies, probate courts, families who are distributing property from estates, the IRS, individuals involved in claim settlements and a variety of other clients. While an inspection should always be a part of the appraisal process, the appraiser's report is the required outcome.
If a buyer is purchasing an automobile and needs an appraisal to secure funding or insurance, then both a pre-purchase inspection and a certified appraisal are required. The pre-purchase inspection allows the buyer to make an informed decision and negotiate the best deal. The certified appraisal allows the buyer to provide proof to their lender that they are funding a vehicle worthy of the loan amount. It can also provide insurers with documentation so they can arrange for the proper coverage to protect the buyer's investment as it is being transported to its new home.