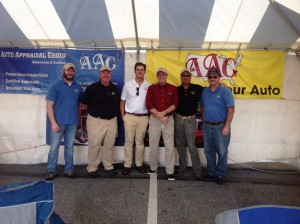 Having just gotten back to the real world after my week at Hershey, I can't help but reflect on what a great time we had again this year. Except for the brief thunderstorm and subsequent run-off that washed our cooler out of the tent and the Saturday afternoon rain, the weather was nearly perfect. If you've never been and you like old cars, you have to put it on your bucket list.  If you have been, maybe you could add your comments about what you love about Hershey.  There are three things that stand out for me this year.
The People – Interacting with many of the AAG agents face-to-face rather than on the phone.  I spend a lot of time on the phone.  Talking with clients, talking with agents, talking to whoever wants to talk with me.  It's fun to be able to hang out with the agents and get to know each other outside of the appraisal business.  Not that we don't talk shop, but we can relax and talk cars, family and other fun stuff too.   Hershey is also a great place to see old friends, clients and meet lots of new people.  Life's all about relationships.
The Cars – Of course being able to visit the car coral and see what bargains are out there and what cars keep coming back year after year, is a great way to spend the day.  But the best part is Saturday morning, watching all the cars drive onto the show field for judging.  Where else are you going to see 900 antique cars being driven into place with period costumes, a little gray smoke and lots of smiling faces?  This is the culmination of a lot of blood, sweat and tears. Whether restored and detailed by their owners or a recent purchase and first time entrant, it makes me feel good to see so many living the dream and participating in the hobby.     
The AACA – How many volunteers does it take to host 300,000 people?  And how many shows are hosted by the AACA on every level throughout the country each year? How many hours are given to make your local, regional and national club a place that allows people to live out their passion for the history of the automobile and the old car hobby? The AACA helps owners to restore, maintain and drive those old cars while hanging out with friends and building community around that passion.  By supporting the AACA we are really supporting one another. Thank you to the AACA for another great event.