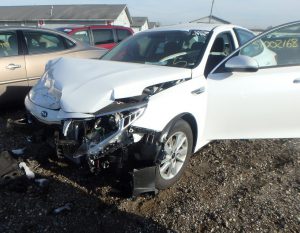 If your vehicle has been in an accident, your insurer may tell you that your vehicle is a "total loss". What does this mean to you, and how does it affect your claim and your vehicle? In some cases, a total loss does not mean that the vehicle is scrap metal, and the car may be useful as a "salvage vehicle", as a source for parts. Understanding how a total loss is determined and how it affects you can be very important.
It is not uncommon for many types of damage, although it may look minor to the owner, to be the reason for a "total loss" assessment by an insurer. Insurers have a few choices when addressing a claim. Depending upon coverage and policy language they can:
1) Pay for the vehicle, repairs, or a replacement vehicle.
2) Return a stolen vehicle at the insurer's expense and pay for any damage.
3) Take all or any part of the damaged vehicle as salvage at a value that has been negotiated by the insurer and the policyholder or determined by an appraisal.
When an insurer declares a vehicle a total loss, the vehicle's Actual Cash Value (ACV) is calculated with an adjustment for depreciation and the physical condition of the car. Insurers consider a vehicle to be a total loss when the cost to repair the vehicle is more than the vehicle's ACV. Several factors help the insurance company to determine your vehicle's value, including:
Condition
Age
Odometer reading
Diminution of value
Local market worth
Equipment and features
Insurers use two common methods when deciding whether or not to "total" a vehicle. State law can dictate which method they use. The two methods are:
Total Loss Threshold
Total Loss Threshold is a percentage that is calculated by dividing the cost of repairs by the ACV of the vehicle. When the threshold has reached a certain percentage, the car is considered "totaled". More than half of states require an insurer to use Total Loss Threshold, with the percentage required to declare a vehicle totaled averaging between 60% and 100%. In a state requiring an insurer to use the threshold to determine totaled status, insurers must reach the threshold to establish that the vehicle has been totaled.
Total Loss Formula
Other states allow insurers to determine if a vehicle has been totaled by using the Total Loss Formula. The cost of repairing the vehicle is added to the vehicle's salvage value, and if the result exceeds the ACV, the vehicle is declared a total loss.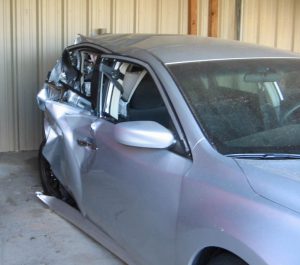 Once your insurer has established that your vehicle is a total loss, the state vehicle licensing authority is notified that the vehicle has been totaled. A totaled vehicle may not be driven in its current condition, but the vehicle will typically have some salvage value. In general, your insurer retains the vehicle as salvage and pays you the ACV for the car. Your insurer may then legally sell the vehicle to an auto salvage company.
In some cases, you can retain a "totaled" vehicle by paying the insurer the salvage value. The vehicle still cannot be driven unless it is repaired and registered as a rebuilt salvage vehicle – it must pass a thorough inspection by a state inspection authority – but you can retain the vehicle for parts if you obtain a non-repairable vehicle certificate.
Salvage value and ACV are usually determined by your insurer, but you can use a certified appraisal agent to assess these important facets of your totaled claim. The accuracy of your ACV can be a key determinant in whether or not your vehicle is considered totaled, and can make the difference between receiving a disappointing reimbursement for your salvage value or ACV and recouping as much as possible from your loss.
A certified auto appraisal agent from AAG can help you determine the value of your damaged vehicle and provide the proper documentation to communicate with your insurer. Our Total Loss Appraisal can ensure that you get everything you are owed after an accident. Call Auto Appraisal Group today to schedule your Total Loss Appraisal!