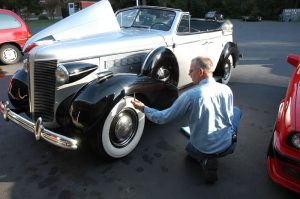 Good news! It's time to start getting collector cars out of storage and on the road. Or maybe you're looking for the car of your dreams to drive, show and enjoy.
Buyer beware! Over the last few months, we have seen an increase in so-called brokers selling non-existent cars. We have been asked to inspect cars at locations that are empty lots or abandoned buildings with no car or seller in sight.
Do not send a deposit on a car that you have not seen in person or had inspected by a certified appraiser.  We also have a list of brokers and businesses that do not want to allow an inspection of whatever they are marketing.  We can only guess that they do not want us to report on the true condition of the vehicle.  Some will only allow inspections by "their inspectors".  We recommend that no inspection means "no sale". Additionally, you should have control over which independent appraiser you hire.  You want someone to work for you, not to help them sell the automobile.
There are only a few professional dealerships that offer any type of warranty on collector cars. Most dealers, brokers and private sellers offer their vehicles "As Is – No Warranty intended or expressed. Where is, as is. You buy it you own it". A prepurchase inspection will and has saved our clients tens of thousands of dollars. Buying a car sight-unseen could lead to owning a money-pit. An experience no one wants.
We never tell our clients to buy or not to buy. We tell our clients what we see and document the condition of the vehicle including a test ride.  Most cars look better in a photo from 10 feet away than up-close and in person.  And most ads include some type of embellishment about condition.  After all, they're trying to shine the best light on it.   We present the facts, with no emotional or financial involvement.
Reputable sellers expect you to want to see what you are buying before you negotiate your purchase. Be a wise consumer. Know what you are buying before you make a deal, not after. Call us for a prepurchase inspection. If you're looking at a car at a dealership that has proven to be unwilling to allow inspections or is uncooperative when we get onsite by not being able to find keys, move other vehicles out of the way or won't even charge a battery to allow us to test features, we will tell you before we take your order.  Our interest is your best interest.  Let us know how we can help you.