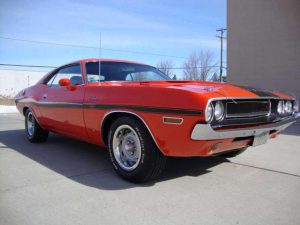 As an appraiser I am constantly looking at options, values and the many variables that make each auto we appraise unique. Most people probably think that color does not affect the value. What do you think? Would you rather have a red sports car or a brown sports car? Do you prefer white cars with red, blue or beige interiors? What color is the last car to sell? Over the years, the cost of special colors has definitely increased. Check out this short article written by one of our Oklahoma agents, Joe Smith.
Optional Paint Color Price Inflation
When we visited the STUDEBAKER Museum about 20 years ago they had a mid-1930's rumble seat roadster in a yellow color on display and it stated the yellow color was a $10.00 option. When we were researching 1948 to 1953 CHEVROLET pick-ups we discovered they had only one standard color, Forest Green. The other six colors were a $10.00 option. I was doing research on a 1970 DODGE Challenger to do an appraisal. They had 13 standard colors and 8 High Impact colors that cost an extra $14.05 such as Plum Crazy, Panther Pink, etc. Inflation from the 1950's to 1970 about 40%. In 2019 a CADILLAC Escalade has two standard colors and six optional colors. The optional colors range from $695.00 to $1,225.00. The same colors on a 2019 CHEVROLET Suburban are about $200-300 less than the Cadillac. In 1950 the optional color on a CHEVROLET was $10.00 and in 2019 $995.00, about 100 times more.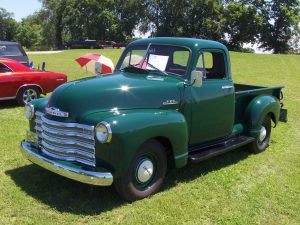 When completing an auto appraisal report, the color is considered because popularity affects the value. You've heard the phrase "that car has eyes" meaning it's a really good looking car. Buyers want the colors they like. You'll find a lot of collector cars have been repainted Red, White or Blue whether that was the original color or not. Car salesman refer to some of these repaints as "resale red". Few are repainted green or brown unless that was the correct color and type for the period. The 1958 Corvette's most popular color was Snowcrest White but by 1968 the most popular Corvette color was British Green. In 1978 the most popular Corvette color was a custom two-tone Silver Anniversary paint scheme. If you look ahead one more decade by 1988 the most popular Corvette color was Bright Red. So yes, an auto appraiser does consider color but it's not always measurable and typically has a minimal effect. When completing the appraisal report, the condition of the paint and the body underneath will have a greater effect on the value than the color.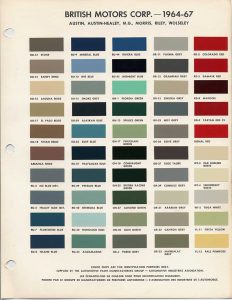 What auto colors are trending now? Sources say that the most universally useful and popular color for 2019 is DuPont's "Saharan Bronze", a color that does nicely on a Ford F150 or Chevy Suburban, while still looking polished and sophisticated on a BMW or a Fiat. Gunmetal grey and "Gunmetal Pearl" are equally universal favorites and can be seen on a wide variety of makes and models. The new "power" colors have shifted from primarily red, white or blue color to dynamic yellows and greens. The Chevrolet Corvette has found a new generation of "wow" in Racing Yellow, while sports standbys like Dodge and Lamborghini are showing off nearly neon greens. The once iconic red or silver Porsche 911 can now be seen in brilliant Lava Orange, a "power" color that has maintained its appeal for nearly 5 years. When it comes to "cars with eyes", the key factor in current trends seems to be bright, bold, non-traditional color, with Jeeps, Fiats, and sports cars appearing in bright teal, brilliant blues, and dramatic, vivid purples.
Happy Motoring!
Larry