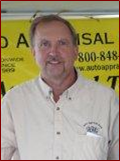 I originally joined AAG over 20 years ago when I was looking for some part-time work that would provide extra income. I've been involved in the collector car hobby most of my life (as owner, restorer and judge), and being involved in appraising collectible vehicles sounded like interesting and fun work, and so it has been. Not only have I seen some great cars, but you meet some fantastic people along the way.
Far and away the most fascinating assignment was being involved in the auto appraisal of the Harold and Nancy LeMay collection of over 3,000 vehicles. I took a week off from my full-time job to fly to Tacoma, Washington to work with a half dozen other agents. What an amazing collection, and a task that only a company with the reputation and the size of the AAG could handle.
Another interesting assignment took me to a remote corner of Utah to do a pre-purchase inspection of not one, but two 1963 Z-11 Impala's, plus one of the eleven '62 prototypes. It was a once-in-a-lifetime opportunity to examine these rare pieces of drag racing history up close, and I learned a lot about them through my pre-inspection research and the inspection itself.
One recent assignment of note came last year in 2012, when I went to inspect two Shelbys, a 1966 GT350 and a 1967 GT500. Not only were those two cars great, but the owner, president of a large trucking company, had a 50-60 car collection of Cobras, Shelbys, Boss 429 and Cobra Jet Mustangs, and was a personal friend of Carroll Shelby himself! You just never know what or who you'll encounter on an AAG appraisal!
Submitted by: Owen Griesemer, Maryland Agent