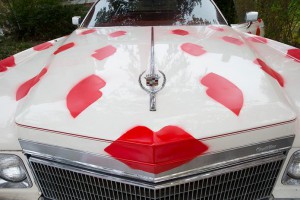 photo credit style.com
A dressed up pig with lipstick is a pig dressed up with lipstick.  Put lipstick on a pig and it's still a pig. We are often asked to inspect pigs that have been dressed up by their sellers in hopes that buyers will think they are buying a race horse, but they are still pigs. We understand that sellers are trying to sell their pig while buyers are trying to buy a race horse.  When we are hired as an independent inspector, we will not tell our clients that a pig is a horse.
Of course we are talking about cars and our role as an objective inspector when we perform prepurchase inspections.  On the rare occasion that a seller does not want an independent inspector to take a look at their stock before a buyer commits to a purchase, then perhaps they don't want you to know about the dressed up pig.
Fortunately, most sellers are open to allowing an inspection. Every car stands on its merits. We document exactly what we see and call them as we see them.  For many years, resellers have used Auto Appraisal Group's services when they buy autos to resell. Many more buyers use our service to help them decide which of the many vehicles available is the one that best meets their needs. Don't let your dream car turn out to be a nightmare. Protect yourself. Our service saves our clients hundreds of thousands of dollars every year. It also helps collectors to find the right automobile for them. Be a wise consumer. Know what you are buying before you buy it.