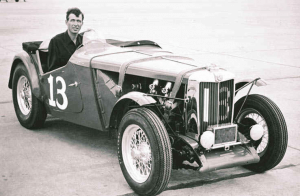 He was a well-known race car driver and some considered him the best driver in the world.
He was the founder of Shelby American company.
He was a romantic. He dropped love letters in a boot from an airplane as he flew over his fiancé's farm while he was a flight instructor in San Antonio during WWII.
He was Tough. In 1955 he drove the "12 Hours of Sebring" race with a broken hand that was in a fiberglass cast and taped to the steering wheel.
He invented the Cobra in his sleep. Like many great minds, he kept pen and paper by his bed for ideas in the middle of the night.
Shelby drove for Enzo Ferrari until several drivers including Luigi Musso, a friend of his was killed.
Shelby's beef with Enzo lead to the birth of the legendary Cobra Daytona, which strangely used WWII-era German tech to beat Ferraris on European tracks.
He was the first American manufacturer to win the FIA World Sportscar Championship.
Ford drafted Shelby to reshape the Mustang so it could race in the "Sports Car Club of America" against the Corvette.
In February 2014 a Cobra Daytona became the first car considered to be a piece of national heritage by the Library of Congress.