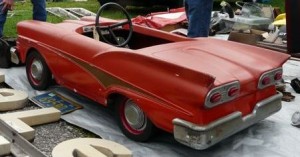 Here we are again; it is time for two of the biggest and best fall events on the east coast. Fall Carlisle– "a collector car swap meet, car corral, and auction" – is held October 1-5, at 150 acre Carlisle, Pennsylvania fairgrounds and is celebrating its 40th year. AAG has been the official appraiser for the last 25 of those years.  With over 8,000 vendor spaces and 2,000 cars in the car corral, you have plenty of opportunity to haggle with the seller and get your best price. The AACA's Regional Fall Meet at Hershey Park in Pennsylvania is October 8-11 and has been around since 1955 and is a great place to locate all things car related. There are 9,000 flea market spaces, with 3,300 vendors and 1,100 car coral spaces with 200 to be sold the week of the Fall Meet.
Carlisle has an auction on Friday & Saturday of the show and plans to see over 300 cars cross the auction block. This event has produced good cars at great prices and could be another great opportunity to find the car you want.  Average sale is about $15,000 per auto offered. There is always something in everyone's price range at this auction. Here is your chance to buy and sell. All Fall Auction consignments are free unless sold.
Hershey's AACA Meet is considered one of the largest antique auto shows and flea markets in the United States. I have been attending the event for 25 years and rarely get to see the entire show during the 4-day event.  All spaces are hosted by AACA members and true to tradition, only vehicles and parts for autos 25 years or older may be sold. Show field conditions have improved greatly over the years and there is no longer any worry about a mud-fest when the weather doesn't cooperate.  In fact, last year the sun came out just in time for the Saturday morning car judging event.
Stop by and see us at both shows this fall. We will be on the Midway once again at Fall Carlisle and just inside the Green Field in spaces GAI 11-13 as you enter from the car corral at Hershey. As always, we provide on-site pre-purchase inspections and appraisals upon request. We look forward to seeing you and the great deals you will find at the show.
Happy Motoring,
Larry Batton