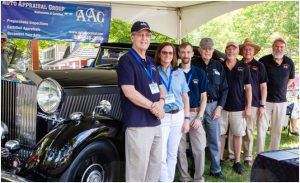 When we were first approached about sponsoring the Virginia Festival of the Wheel car show in Charlottesville Virginia, we thought "It's about time!" While there are a number of local car shows in the area and many of them support local non-profits, this event's mission was to raise awareness and support for the UVA Cancer Center, which has made a difference in the lives of many people in Virginia and beyond. While raising awareness and financial support for the Cancer Center, this show provided participants with a concours level event in a world-class venue with a program comprised of many local enthusiasts and supporters of the old car hobby.
The show made it possible for our office staff to meet fellow car lovers in person and combine their forces to make the event a success. We were honored to have a 1936 Rolls Royce Phantom III Drophead Coupe as the featured automobile in our tent. We have had the privilege of appraising this memorable automobile several times as time has passed. It is owned by a local family who has been involved in local and national car clubs for many years. Just one of the collectible autos in his stable, this one was purchased by his father in the early 1960's and won Best in its Class at the Amelia Island Concours d 'Elegance a few years ago.
Other notable autos at the event included the following winners:
The Virginia National Bank Best in Show Trophy – Brant Halterman for his 1965 Shelby GT350 Mustang.
The Albemarle Co. Rotary Club People's Choice Trophy was a tie – Louise McConnell for her 1964 Ferrari 250 Berlinetta Lusso and Allan Becker for his 1930 Packard 745 Roadster.
The Chairman's Choice Trophy ­- William Alley, 1955 Jaguar D-Type Roadster
The Packards, Featured Marque of the 2019 VFOTW – 1st Place Allan Becker,1930 Packard 745 Roadster; 2nd Place, Allen Richards,1931 Packard 845 Convertible Coupe
Vintage Race Cars – 1st Place, Eric Anderson, 1932 Hudson-Martz Indy Car; 2nd Place, Phil Williams, 1960 MGA Racer Convertible
The Cadillacs – 1st Place, Frank Nave, 1959 Cadillac Coupe DeVille; 2nd Place, Joel Loving, 1975 Cadillac Eldorado Convertible
Brass Era Cars – 1st Place, Paul Wilson, 1899 Marot-Gardon Open Car
Post-War American Production Cars – 1st Place, Doug Caton, 1955 Chrysler New Yorker Convertible; 2nd Place, Zach Straits, 1961 Ford Starliner Fastback
Exotic Sports Cars – 1st Place, Brian Fox, 2004 Acura NSX Targa; 2nd Place, Tom Farley, 1999 Ferrari 550 Maranello 2 Dr. Coupe
German Sports Cars – 1st Place, Michael Copperthite, 1953 Porsche Type 356 Coupe; 2nd Place, Robert Guenther, 2016 Porsche 911 GTS Club Coupe
American Sports Cars – 1st Place, Daniel Miller, 1962 Chevrolet Corvette; 2nd Place, Edward Szeliga, 1964 Chevrolet Corvette
Pre-War Classic Cars – 1st Place, Jim Elliott, 1928 Auburn Convertible Sedan;
Post-War Foreign Production Cars – 1st Place, David Lowen, 1959 BMW 600 Sedan; 2nd Place, Christopher Thompson, 1959 Alfa Romeo Guilietta Sprint Coupe
Preservation Class Cars – 1st Place, Louise McConnell, 1964 Ferrari 250 Berlinetta Lusso; Tie for 2nd Place, Chris Overcash,1946 Packard Sedan – 2nd Place, Michael Chiavetta, 1965 Chevrolet Chevelle Convertible
American Hot Rods – 1st Place, Don Cullen, 1935 Ford Cabriolet Roadster; 2nd Place, Bobby Hilton, 1931 Ford Roadster
British Sports Cars – 1st Place. Jim Ellis, 1956 Austin Healey 100M; 2nd Place, Jim Cheatham, 1957 MGA Coupe
Fundraising totals have yet to be finalized, but the result is expected to be very close to this year's goal of $30,000. The success of the event is a testimony to the dedication and efforts of the event's organizers under the leadership of Mike Baldauf. His vision of combining an interesting and informative program with a nice venue to create a positive experience for all participants was superbly realized. We are looking forward to next year's event during Labor Day weekend 2020. Great job Mike!