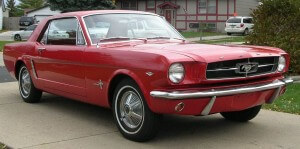 America's favorite pony car and automotive icon turned 50 this year.  The Ford Mustang has been an important part of the motoring world since 1964.
From the beginning, it set the standard for affordable, fun cars.  It offered extensive options and packages, including various appearances and performance levels.  You could order a weekend cruising convertible or an evening stoplight dragster directly from the factory.  Ford has continued this tradition through today with the Boss 302, GT500, and Cobra models, as well as base models with hardtops, glass tops, and convertible tops.
Many automotive enthusiasts have owned or have wanted to own a Mustang.  Those who have owned one all have a story to tell about how they got it or about an experience they have had with their pony car.  Such a favorite car is always hard to part with.
I purchased my first Mustang in 1998 when I was working at an auto shop in Roseville, California.  There was a small car dealership on the corner of the street where my shop was located.  I drove past that lot twice every day.  There was the usual menagerie of affordable cars for sale on the lot that came and went.
Then one Monday, there appeared a 1993 Mustang LX notchback with the 5.0 V-8 engine and five-speed transmission.  It was formerly a California Highway Patrol car that had been repainted and freshened up with aftermarket wheels.  It took about two weeks of driving past that car before I couldn't help but stop and peer in the window.  To me, it was beautiful.
The salesperson told me how much it cost and explained that I could not drive the car unless I was planning to buy it.  That added an element of mystique that made the car even more desirable.  I caved in and borrowed money for the down payment, traded in my thrifty and economical Honda Accord hatchback, and drove off the lot with my dream car.  That planted the seed.  Since then, I have owned and loved many other Mustangs from all generations.
Kudos to the Ford Motor Company for continuing to improve our favorite pony car.  It has remained a steadfast collectible car, as well as a practical and reliable daily driver.  The Mustang continues to raise the bar for other auto manufacturers in terms of quality, excitement, and innovation.
So a hearty Happy Birthday on the
50th anniversary of the Ford Mustang!
~Submitted by Brandon McCullough, Livermore, CA
What's Trending with Mustang Values?
1964's – up 3%
1966's – up 2%
1967's – up 2%
1970's – up 3%
1972's – up 3%

2007's – up 2%