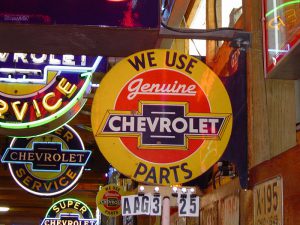 What is Automobilia? As this fast-growing and expanding market takes over vintage and antique galleries everywhere, you may be wondering what exactly constitutes an "automobilia collection" and why automobilia has become so popular.
Automobilia is generally defined as anything that advertises an automobile. This includes not just a complete car from Ford or Chevy, but also parts like headlights or brakes. Some people include "petroliana" – anything that promotes gasoline or gasoline brands – in a sweeping definition of automobilia. Automobilia does not include actual car parts or automobiles – these are referred to as "automotive".
For many of us, our collections began with a few pieces of authentic automobilia we bought to dream about the car we wanted before we could afford to shop for a collector or vintage vehicle. In some cases, collectors search for items that are nostalgic and remind them of a certain time. Other collectors are obsessed with a brand and only collect automobilia that represents a company like Chevrolet or BMW.
Among the top contenders for collector attention are the obvious celebrities: Dodge, Chevy, Mopar, and classic vehicles like the Model A, the Stanley Steamer, or the Chrysler Touring cars. The current market includes collectors who use automobilia as decorator items, creating a new interest in items that are not necessarily brand specific. The goal is a certain "look", creating an expanding and competitive market for both well-preserved pieces and those sporting a charming patina.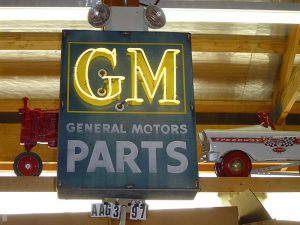 Information about the value of automobilia can be difficult to assess. While the condition of the item does help to determine its value, it is not as clear cut as "mint" v. "poor". Some buyers are looking to buy a piece of art, and as such, they value the impact that a little wear can have in a decorator setting. Without the help of an insider or an expert in the field, it can be very hard to know what an item should be worth. In some cases, a piece may be more valuable simply because of its history – where it came from, how it was displayed, who owned it – and may demand a higher price than a "mint condition" version in spite of a little "road rash".
Current market prices are increasing as general audiences begin to take an interest in pieces that were once only of interest to serious car collectors. The result is that many car collectors who have had a casual hobby collecting automobilia may have much more valuable collections than they realized. Collectors who are dreaming of buying their next vintage vehicle can start raising funds by offering part or all of their collection to buyers.
But how do you know which items have value and what that value should be? If you have the time and funds, the best way to get a good idea of value is to go to car shows and talk with experts who can explain the history of artists, certain brands, and the ownership of specific items. While this sounds like a lot of fun, most of us don't have the time and resources to gather the knowledge we need.
Did you know AAG appraises more than just vehicles? AAG has extensive experience with Collector Automobilia and can appraise your collection to determine value. Like all our appraisals, our documentation will make it easy for you to claim value, protect your investment, and determine a price if you wish to sell. Contact us today!