AAG is gearing up for the Annual AACA Club Meeting in Philadelphia next weekend!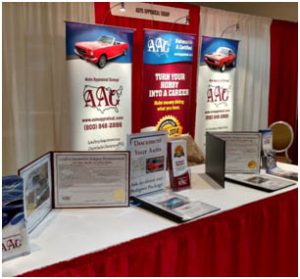 One of the highlights of the weekend is the wide variety of seminars given by AACA members about various aspects of the hobby. AAG's founder, Larry Batton, presents a Value Trends Seminar each year that documents and highlights current value trends for a variety of automobiles. The Fact or Fiction portion of the seminar features selected vehicles from recent auction sales during the Scottsdale Auction week. Overall sales were down from previous years but lots of interesting and notable automobiles crossed the block last week in Scottsdale.
"The AACA Meeting is a great event that allows us to meet with the volunteer leadership from AACA clubs around the country during the two-day trade show that coincides with the seminars" commented AAG's Fort Lauderdale agent John Delaney. AAG agents are available to share a portion of the Value Trends Seminar with local clubs by appointment. Contact our Headquarters for more information at 434-295-1700.