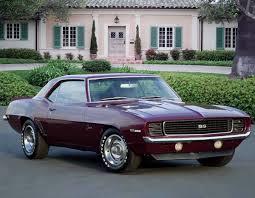 The 1969 Camaro was significant for being the last of the first generation of Camaros, and the last year that a convertible was offered until 1987.  It sold in the highest numbers of those first three years (almost a quarter of a million examples), and remains the most sought after year among collectors.  To set it apart, the '69's received restyled fender and quarter panels which changed the shape of the wheel openings; and to satisfy every taste, there were almost 100 options to choose from, along with 18   exterior colors  This year of Camaro is also famous for the COPO options 9560 and 9561 which introduced either an alloy or iron 427 engine under the hood.
These were interesting days at Chevrolet, and all of General Motors.  The engineers were struggling with how to meet new emissions requirements in future years, which would lead to lower compression ratios on all their engines in 1971 so they could run on unleaded fuel.  New safety regulations were also presenting a challenge, and this would affect the designers as well as they started sketching the 1973 models which had to meet new impact (bumper) requirements.  GM factories were increasingly dealing with labor strife, notably at the Norwood plant where Camaros were built, culminating in lost production due to strikes for better working conditions.  This had an enormous impact on the early years of the 2nd generation Camaros and Firebirds.
The Camaro for 1969 is a popular choice for collectors both old and new.  High production means that there are many to choose from today, although stock, unmodified  examples are a bit harder to find.  The buyer has a choice of two different appearances, standard, or Rally Sport (RS) like our featured car.  Add that to the Super Sport (SS) and Z/28 models, along with the numerous drivetrain packages, long list of options, and the myriad color choices, and it   becomes possible to create a unique car to stand out from all the other Camaros you will find at the shows.  Strong aftermarket support also makes this a popular choice for restorers, as virtually every single part, including bodies, is reproduced.  But buyer beware:  SS and Z/28 clones are ubiquitous, so it is highly recommended that one employ the assistance of an expert when considering a purchase.
~Submitted by AAG Agent, Owen Griesemer, Maryland