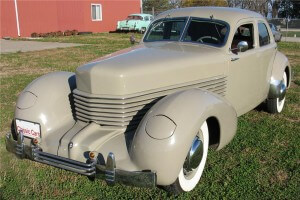 The 1936 Cord 810 and the 1937 Cord 812 were in the second generation of Cords produced by the Auburn Automobile Company. Those Cords were the first to have unibody construction, hide-away headlights, concealed door hinges, taillights built into the car instead of being bolted on separately, no running boards, and the hood opened like an alligator mouth instead of a two-piece hood that folded over. Those Cords were also powered by a Lycoming flat aluminum head V-8 with 125 horsepower or 175 horsepower with the supercharger, which far exceeded Ford's flathead V-8 with 60 horsepower during the same period. If you could see exposed exhaust coming from under the hood, it was a supercharged engine; if not, it was the basic engine. The Cord was priced at twice the price of a Cadillac or Lincoln.
In 1935, automobile manufacturers had to produce 100 cars of a given model in order for it to be eligible to be displayed at the New York auto show at the end of the year. The first 100 Cords were hand-made to make this objective. It was hoped they would save the Auburn Automobile Company during the great depression, but their quality suffered from this rush to market. New owners experienced many problems with the cars, and local service station mechanics did not want to work on them. Cadillac, Lincoln, and Packard dealers were flooded with used Cords on their car lots, and the Cords soon became worth close to nothing before World War II.
The Auburn Automobile Company produced cars from 1900 to 1937, 1964, and 1967 to 1981. The name was changed to Auburn-Cord-Duesenberg Company in 1938. The first generation of Cords was produced in 1929-1932, when E. L. Cord was in control of the company, and the car was named after him. The price of the Cord was set in the range between the Auburn brand and the Duesenberg brand. About 5,000 of these first generation autos were manufactured. These cars have a very long aluminum hood due to the front wheel drive, and the hoods brought a premium in salvage values during World War II.
About 2000 second generation Cords were produced in 1936 and 1937, and the Auburn-Cord-Duesenberg (http://www.acdclub.org/) club estimates that about 1,000 still exist today. The Cord was available in a 4-door sedan Westchester, a longer 4-door sedan Beverly, a one-seat Sportsman convertible, and a two-seat phaeton convertible. The third generation of Cords were produced in 1964, which is referred to as the Glenn Pray Cord because he bought the company in 1960 and moved it from Auburn, Indiana, to Broken Arrow, Oklahoma.
~Submitted by Joe Smith, AAG Certified Agent, Sand Springs, OK